Stacy & Paul Wastell
Stacy & Paul Wastell
Your Ballarat Tax Accountant & Bookkeeper
Get in touch with our friendly tax and bookkeeping expert tailored just to you.
Book a free consultation
Bookkeeping Services
Accounts Payable/Receivable
Bank Reconciliations
BAS Prep and Lodgement
Debt & Cashflow Management
Payroll Management
Software Training
Tax and Accounting Services
Advisory Services
Company Tax
Individual Tax Returns
Tax & Accounting
Tax Planning
Tax Strategy
Get to know Stacy & Paul!
Paul and Stacy are Ballarat's renowned tax accounting and bookkeeping specialists, with Paul bringing over 25 years of chartered accounting experience and Stacy offering exceptional bookkeeping and business management skills. Their clients appreciate the high-quality service paired with a grounded approach.
Their firm, Shoebox Books & Tax Ballarat, delivers comprehensive services including business advisory, tax returns, strategic tax planning, and company restructuring. When it's football season, the family enjoys cheering on their favorite team, the Tigers, in Melbourne.
Book a free consultation with Stacy & Paul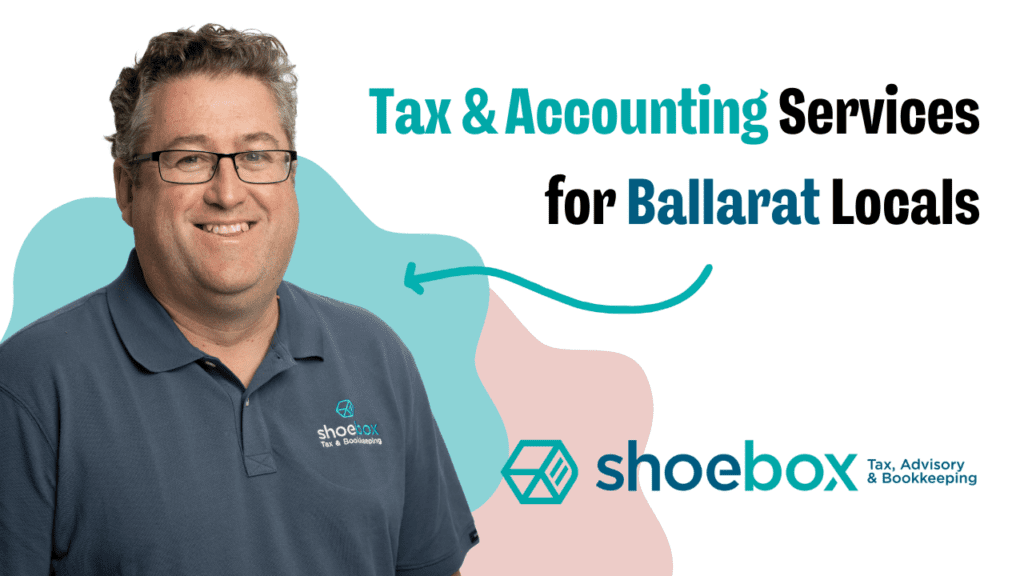 L
O

VE FROM OUR CLIENTS

Hear what our current clients have to say about working with Shoebox
Easy to work with, very knowledgeable and great customer service!
"Stacy's work manner is extremely professional and humble. She is an excellent communicator with great attention to detail. Would highly recommend Stacy at Shoebox Books & Tax Ballarat."
Trading hours
Mon – Fri: 9am to 5pm
Sat/Sun: by appointment
After hours: by appointment
Connect with Stacy & Paul
Areas I service
Alfredton
Allendale
Ascot
Bakery Hill
Bald Hills
Ballarat
Ballarat Central
Ballarat East
Ballarat North
Ballarat South
Ballarat West
Bamganie
Barunah Park
Berringa
Black Hill
Blowhard
Bonshaw
Broomfield
Brown Hill
Bunding
Bungal
Bungaree
Buninyong
Cabbage Tree
Cambrian Hill
Campbelltown
Canadian
Cape Clear
Cardigan
Cardigan Village
Cargerie
Chapel Flat
Clarkes Hill
Clunes
Corindhap
Creswick
Creswick North
Dean
Delacombe
Dereel
Dunnstown
Durdidwarrah
Durham Lead
Enfield
Eureka
Glendaruel
Glendonald
Glengower
Golden Plains North
Golden Plains South
Golden Point
Gong Gong
Gordon
Haddon
Hesse
Illabarook
Inverleigh
Invermay
Invermay Park
Kingston
Lake Wendouree
Lal Lal
Lawrence
Learmonth
Leigh Creek
Lethbridge
Linton
Lucas
Mannibadar
Maude
Meredith
Millbrook
Miners Rest
Mitchell Park
Mollongghip
Morrisons
Mount Beckworth
Mount Bolton
Mount Clear
Mount Doran
Mount Egerton
Mount Helen
Mount Mercer
Mount Pleasant
Napoleons
Navigators
Nerrina
Newington
Newtown
Nintingbool
Piggoreet
Pitfield
Pittong
Redan
Rokewood
Rokewood Junction
Ross Creek
Scarsdale
Scotchmans Lead
Scotsburn
Sebastopol
She Oaks
Shelford
Smeaton
Smokeytown
Smythes Creek
Smythesdale
Soldiers Hill
Spargo Creek
Springdallah
Staffordshire Reef
Steiglitz
Sulky
Sutherlands Creek
Teesdale
Tourello
Ullina
Wallace
Warrenheip
Wattle Flat
Weatherboard
Wendouree
Wendouree Village
Willowvale
Wingeel
​
Bookkeeping Services Ballarat
At Shoebox Books, we are your dedicated bookkeeping partners in Ballarat. Our services are designed to alleviate the burden of financial management, allowing you to dedicate more time and resources to growing your business.
We take on tasks that can often cause stress, such as preparing BAS, generating profit and loss reports, and managing hours of data entry. As professional bookkeepers, we excel in these areas, ensuring they're handled with precision and care.
Our services extend beyond basic bookkeeping, as we also manage invoice matching and payable allocation, as well as account reconciliation to ensure accuracy in your records. We understand how crucial it is for you to be informed about your business's financial growth, so we provide comprehensive quarterly profit & loss reports.
We believe that each client has unique needs, which is why we offer a complimentary consultation for all new clients to understand their business requirements better. Our fixed-cost packages are tailored to suit your needs, ensuring you receive the best value for your investment.
With Shoebox Books, you're not just getting a bookkeeper in Ballarat – you're gaining a partner committed to helping your business succeed.
Frequently Asked Bookkeeping Questions
Can Shoebox Books and Tax's Ballarat bookkeeping services help with Business Activity Statements (BAS) preparation and lodgment?
Yes, It is an important function of a bookkeeper to not only be able to do the bookkeeping but also to complete the process of preparing and lodging your business activity statements (BAS) on time. It is INCLUDED in all of our packages.
How can Shoebox Books and Tax's fixed-cost bookkeeping packages benefit my business in Ballarat?
As a business it's important to know what your expenses are each month and it is more economical to be on a monthly package that is inclusive, so you know exactly what you are paying each month. It helps you with your cash flow! Compared to an hourly rate where it will fluctuate and always becomes more expensive than a monthly package during the BAS periods and EOFY reconciliation checks.
What is included in Shoebox Books and Tax's most popular bookkeeping package for Ballarat businesses?
Our most popular business package for $260/mth + gst (OR $60/week), includes the following:
• Quarterly Consultations
• Quarterly lodge BAS
• Monthly data entry
• 2 bank accounts reconciled
• Payroll processing for 2 employees – Bookkeeper Prep & Client Pay
At Shoebox Books & Tax, we're not just tax accountants in Ballarat; we're your partners in navigating the complex world of tax and accounting. Our team of experienced professionals is dedicated to simplifying the process of tax return preparation and lodgement for both businesses and individuals, providing practical advice that makes sense for your unique circumstances.
Our commitment to your business goes beyond tax filing; we offer strategic business advisory services, helping you plan and execute finance strategies that drive growth. We also create an annual tax strategy that's not just effective, but practical and tailored to your business.
We believe in delivering more than just a service; we provide a comprehensive business review as part of our 'Tax Standard Package', focusing on your business structure and tax processes to identify opportunities for improvement. We understand that every business in Ballarat is unique, so we customise our services to meet your specific needs, ensuring a client experience that's as exceptional as it is personal.
With our range of tailored tax and accounting packages, we ensure you get the most value for your investment. From navigating complex tax situations to strategic business planning, we're here to support your Ballarat business every step of the way
Frequently Asked Tax Questions
In what ways can your tax accountants in Ballarat assist my small business in year-round tax planning to avoid end-of-year surprises?
Our tax accountants can provide ongoing guidance and support throughout the year to help your small business stay on top of tax planning and minimise surprises at the end of the year. Their expertise and proactive approach can help you optimise your tax position, save money and leave you to focus on growing your business.
What are the unique benefits that the 'Tax Standard Package' offers to businesses in Ballarat compared to other packages?
Our tax standard package has been designed to cover all the needs of small business. We focus not only on meeting your compliance obligations but also ensuring that tax planning isn't overlooked and you and your business are in the best possible position to minimise tax and help you meet your business goals.