Jodi & Troy Panui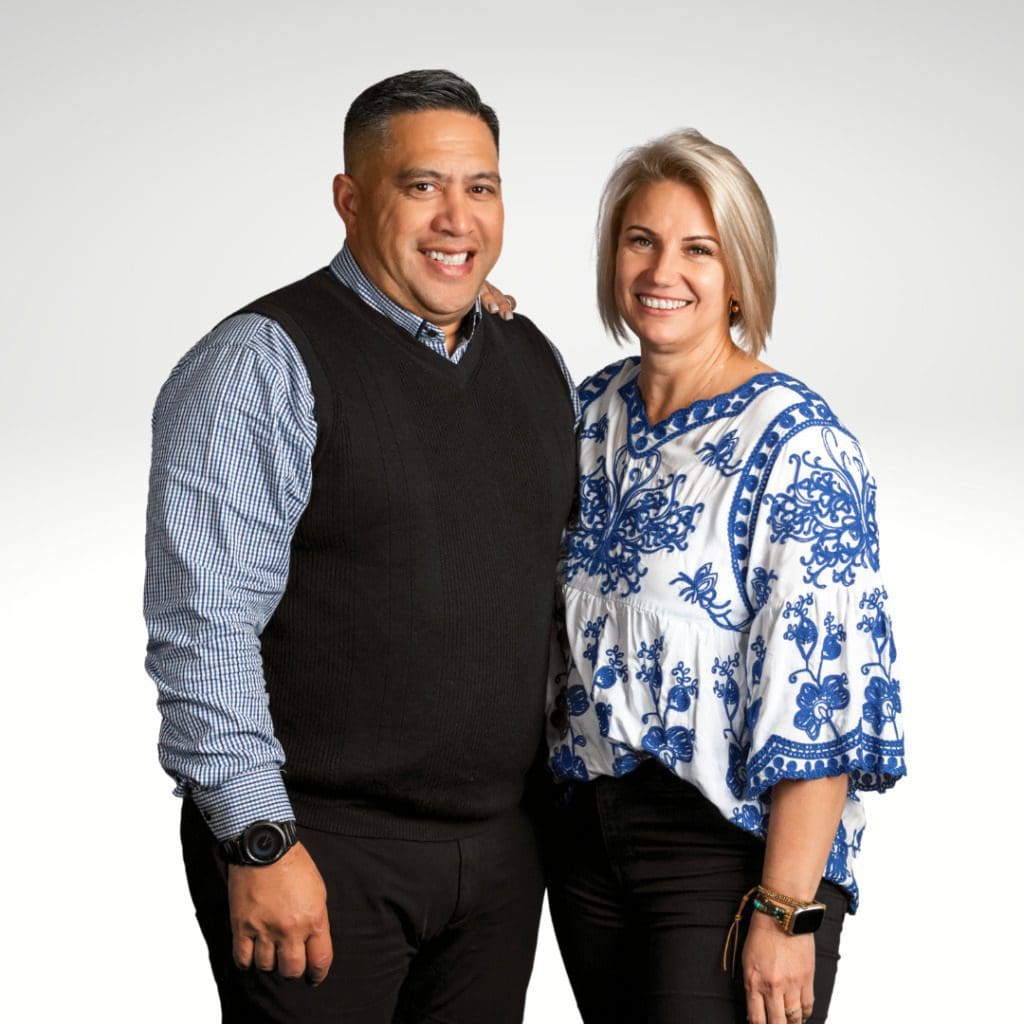 Jodi & Troy Panui
Your Burleigh Accountant and Bookkeeper
Get in touch with our friendly tax and bookkeeping expert tailored just to you.
Book a free consultation
Bookkeeping Services
Accounts Payable/Receivable
Bank Reconciliations
BAS Prep and Lodgement
Debt & Cashflow Management
Payroll Management
Software Training
Tax and Accounting Services
Advisory Services
Company Tax
Individual Tax Returns
Tax & Accounting
Tax Planning
Tax Strategy
Get to know Jodi & Troy!
Troy and Jodi form Burleigh's leading bookkeeping pair, renowned for their impressive skills. Jodi's numerical prowess and business acumen, along with Troy's client relations and rapport-building, create a perfect blend for advancing your business. Their bookkeeping expertise and dedication to steering SMBs towards financial prosperity are what sets them apart.
In the local circles, Troy is celebrated as the 'SINGING BOOKKEEPER,' a testament to his dual talents in finance and music, known to uplift spirits. The Burleigh lifestyle reflects in their family's beach-loving ways, adding a fun and laid-back dimension to their service across various local suburbs.
Book a free consultation with Jodi & Troy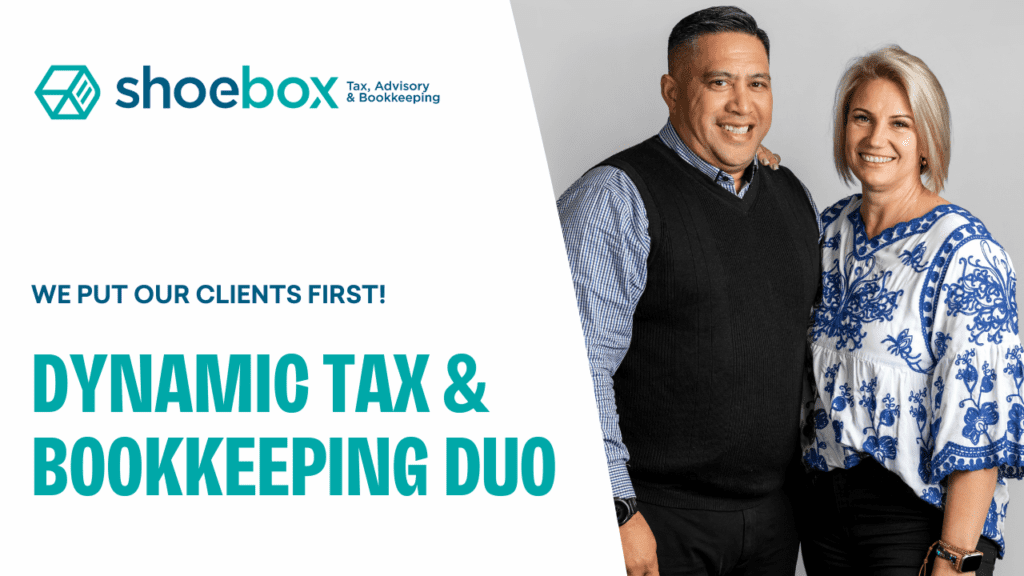 L
O

VE FROM OUR CLIENTS

Hear what our current clients have to say about working with Shoebox
Businesses are all about people. My experience with Troy & Jodi Panui from Shoebox Burleigh has been so positive. It relates to what they have brought to my thinking about how their advice is totally focused on my business goals. That's my business perspective. Its not ALL ABOUT the 'figures'. Jodi and Troy look for practices that help me to be a better business operator and make my business operate more smoothly. I feel like a worthwhile business to them. Shoebox Burleigh to me is about the people learning their job very well and then telling me "what's best" - "what's better".
"I know Jodi and Troy personally and professionally and they are fantastic! They are honest, efficient, professional, have great communication skills and have a huge amount of experience between the both of them. If you need your books taken care of, choose Shoebox Books Burleigh! They actually care about you and your business and I think you'll find they are two of the best human beings on the planet :)"
"I'm incredibly impressed with the manner in which Jodi has worked with us. She is extremely knowledgeable, helpful and not afraid to give sound advice even when the advice wasn't what I wanted to hear. She listens to your needs and then works to fulfil all requirements in a timely manner. She exceeded our expectations, alleviated our concerns with her work ethic, knowledge, honesty and integrity. I highly recommend and trust Jodi and the team and Shoebox Books Burleigh."
"We're so glad we found Troy and Jodi! The amount of times they've come to our aid in times of need is nothing short of incredible. Thank you both for allowing us to focus on what we do best. Couldn't recommend enough!"
Trading hours
Mon – Fri: 9am to 5pm
Sat/Sun: by appointment
After hours: by appointment only
Connect with Jodi & Troy
Areas We Service
Burleigh
Burleigh Heads
Burleigh Town
Burleigh Waters
Currumbin Valley
Currumbin Waters
Elanora
Palm Beach
Reedy Creek
Tallebudgera
Tallebudgera Valley
Varsity Lakes
West Burleigh
​
Bookkeeping Services Burleigh
At Shoebox Books, we are your dedicated bookkeeping partners in Burleigh. Our services are designed to alleviate the burden of financial management, allowing you to dedicate more time and resources to growing your business.
We take on tasks that can often cause stress, such as preparing BAS, generating profit and loss reports, and managing hours of data entry. As professional bookkeepers, we excel in these areas, ensuring they're handled with precision and care.
Our services extend beyond basic bookkeeping, as we also manage invoice matching and payable allocation, as well as account reconciliation to ensure accuracy in your records. We understand how crucial it is for you to be informed about your business's financial growth, so we provide comprehensive quarterly profit & loss reports.
We believe that each client has unique needs, which is why we offer a complimentary consultation for all new clients to understand their business requirements better. Our fixed-cost packages are tailored to suit your needs, ensuring you receive the best value for your investment.
With Shoebox Books, you're not just getting a bookkeeper in Burleigh – you're gaining a partner committed to helping your business succeed.
Frequently Asked Bookkeeping Questions
Can Shoebox Books and Tax's Burleigh bookkeeping services help with Business Activity Statements (BAS) preparation and lodgment?
Yes, It is an important function of a bookkeeper to not only be able to do the bookkeeping but also to complete the process of preparing and lodging your business activity statements (BAS) on time. It is INCLUDED in all of our packages.
How can Shoebox Books and Tax's fixed-cost bookkeeping packages benefit my business in Burleigh?
As a business it's important to know what your expenses are each month and it is more economical to be on a monthly package that is inclusive, so you know exactly what you are paying each month. It helps you with your cash flow! Compared to an hourly rate where it will fluctuate and always becomes more expensive than a monthly package during the BAS periods and EOFY reconciliation checks.
What is included in Shoebox Books and Tax's most popular bookkeeping package for Burleigh businesses?
Our most popular business package for $260/mth + gst (OR $60/week), includes the following:
• Quarterly Consultations
• Quarterly lodge BAS
• Monthly data entry
• 2 bank accounts reconciled
• Payroll processing for 2 employees – Bookkeeper Prep & Client Pay
At Shoebox Books, we're not just tax accountants in Burleigh; we're your partners in navigating the complex world of tax and accounting. Our team of experienced professionals is dedicated to simplifying the process of tax return preparation and lodgement for both businesses and individuals, providing practical advice that makes sense for your unique circumstances.
Our commitment to your business goes beyond tax filing; we offer strategic business advisory services, helping you plan and execute finance strategies that drive growth. We also create an annual tax strategy that's not just effective, but practical and tailored to your business.
We believe in delivering more than just a service; we provide a comprehensive business review as part of our 'Tax Standard Package', focusing on your business structure and tax processes to identify opportunities for improvement. We understand that every business in Burleigh is unique, so we customise our services to meet your specific needs, ensuring a client experience that's as exceptional as it is personal.
With our range of tailored tax and accounting packages, we ensure you get the most value for your investment. From navigating complex tax situations to strategic business planning, we're here to support your Burleigh business every step of the way
Frequently Asked Tax Questions
In what ways can your tax accountants in Burleigh assist my small business in year-round tax planning to avoid end-of-year surprises?
Our tax accountants can provide ongoing guidance and support throughout the year to help your small business stay on top of tax planning and minimise surprises at the end of the year. Their expertise and proactive approach can help you optimise your tax position, save money and leave you to focus on growing your business.
What are the unique benefits that the 'Tax Standard Package' offers to businesses in Burleigh compared to other packages?
Our tax standard package has been designed to cover all the needs of small business. We focus not only on meeting your compliance obligations but also ensuring that tax planning isn't overlooked and you and your business are in the best possible position to minimise tax and help you meet your business goals.