Back
Benefits of Outsourcing a Bookkeeper for Your Business
No matter if you're a sole trader, partner or company, every operating professional needs to utilise a bookkeeper. In the hands of a proficient bookkeeper, your finances can stay on track, providing you with the additional time to focus on managing the day-to-day tasks and growing your business. Particularly helpful if figuring out your finances gives you headaches, or if you'd prefer to spend time elsewhere (we know bookkeeping can be time costly), a bookkeeper is the best investment you can make in our business. They are an investment that not only affects your business' wellbeing, but also your own. If you're considering a bookkeeper but need to know more about the finer details, Shoebox Books is covering the top five reasons why you and your business will benefit from a bookkeeper today.
What does a bookkeeper do?
Before we delve into the reasons why you should hire a bookkeeper, let's first establish what exactly a bookkeeper does. Simply put, a bookkeeper is a keeper of books. In their role, the bookkeeper records all financial transactions of your business. Each will develop a system that organises your sales, purchases and payment receipts. A magician of numbers, a bookkeeper will record this information and translate it into layman terms. Processing your payments, expenses and piled up receipts are just one side of the coin.
Think of a bookkeeper as an analyst who will help you pinpoint trends and opportunities, and help you incorporate these into your business plan. With a summary of your annual business report, you'll know exactly how your business is performing. With this knowledge, you'll know whether your current business model is working, such as your total profit margin and whether your marketing and advertising efforts are paying off. The information can also elicit timely decisions aimed at providing some valuable TLC to your business' weaker areas.
At Shoebox Books, we believe there is a bookkeeper for everyone. As you consider the help from a professional accountant, we know you'll want to know the scope of benefits a bookkeeper can provide. Below we have outlined the benefits of why hiring a professional bookkeeper for your small business could be the answer you've been looking for.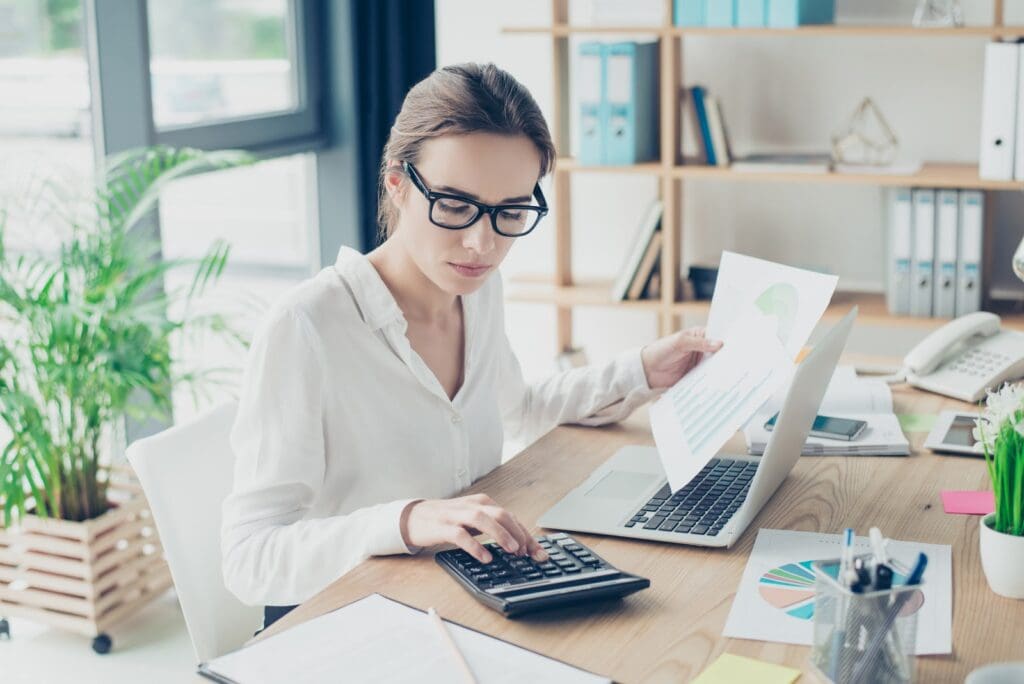 1. More Time to Focus on Your Business
Outsourcing is a common practice in businesses, from supplies, manufacturers and personnel. However, the one aspect you can't find elsewhere is your business vision and your personal wellness. When you hand over the financial reins to your trusted bookkeeper, you trade hours spent filling receipts and paying invoices for more time to focus on the things that will grow your business or yourself. After all, if financial duties have you by the ball and chain, there will be less time for networking, sales, marketing and business strategy. Whilst admirable, many dedicated business owners can overload themselves with work responsibilities.
A business venture doesn't have to be a one man show. An adequate work-life balance is essential to all, especially since those who find themselves living in the office are more likely to experience fatigue and exhaustion. They say sleep is for the dead, but several studies have shown that long working hours and reduced sleep contributes to anxiety, depression and even cardiovascular disease and an increased risk of death. So it's time to think twice before working overtime and only getting under your recommended seven hours of sleep a day.
2. You Save Time
Regardless of whether you consider yourself a whiz with numbers, business owners juggle wearing multiple hats, meaning they can sometimes be less on the ball when sorting receipts and paying expenses on time. Sometimes, taking a backseat on the list of priorities, such as tax filing, can quickly creep up. Suddenly you're finding yourself frantically trying to catch up.
Remember, any time put towards making sense of numbers, is time spent away from growing your business in its other core aspects. To relieve the pressure and responsibility of keeping track of your finances, a dedicated bookkeeper can provide you with more time to dedicate it towards product development, customer experience, and sourcing valuable personnel.
3. Fewer Errors
Fewer errors can reduce your time spent redoing your own bookkeeping. Or even better, hiring a bookkeeper will prevent you from having the opportunity for mistakes to arise. We all make mistakes, but even small mistakes can turn out costly. Mistakes such as recording incorrect information, or reporting the wrong information can land you in hot water. To avoid an unsightly fine from the ATO, a bookkeeper will take care of your bills, taxes and invoices. With a bookkeeper, you can rest assured your finances will be accurately recorded and reported to government agencies.
4. Form Smarter Financial Decisions
With more time on your hands not having to record financial data and alter mistakes, business owners can focus on learning how to make smarter financial decisions with the guidance of their bookkeeper. The bookkeeper does more than take over financial responsibilities for you. They can also outline where your money is going, how you are spending it in accordance with your earnings, and even help you work towards and achieve meeting your financial goals. It's easy for business owners to make financial decisions blindly, but a bookkeeper will help you learn.
Lessons in how much to spend on your day to day operations are a part of the journey of having a bookkeeper on your team. Ultimately, with your newfound awareness of smart spending, you will be able to control and better manage your business expenses, helping you to save money in the long run.
5. Cost Effective and Scalable Assistance
Depending on the size and nature of your business, hiring a bookkeeper is nearly always more cost-effective than trying to handle your finances yourself. This includes saving time and energy. Using online accounting software, a bookkeeper can remotely work on your accounts in real-time, so you can be reassured they are not distracted by the internal hustle and bustle of your business.
As your business grows, the opportunity for your bookkeeper to work in-house becomes more beneficial. The circumstances that warrant an in-house bookkeeper is if your business employs more than 30 staff members or your profit surpasses $1,000,000 each year. However, if you are a small and steadily growing business owner, you likely won't require the assistance of a bookkeeper on a full time basis. If you feel as if you have your finances under control for the most part, hiring a bookkeeper just for tax time is also a beneficial solution.
To Sum It Up
Regardless of the stage of your small business, it's never too late to bring a bookkeeper on board. A reputable bookkeeper will assist you in all stages, and provide you with the additional time you need to further grow your business. Financial transparency will allow you to be proactive in growing your business, as well as planning and forecasting, so you no longer have to take a risk on your business decisions.
As a reputable Australian bookkeeping and accounting service, Shoebox Books is here to assist you with all your financial management needs. Visit our website to see our bookkeeping services or contact our team of friendly professionals for more information.