Back
Bookkeeping Tips For Construction Businesses
Construction businesses have the unique experience of working with a range of employees or partners, extra contractors, businesses and individuals, within various payment schemes. As the books can quickly become a financially complex matter, construction bookkeepers need to be vigilant and knowledgeable, to accurately calculate and report on incomings, outgoings, tax, super and benefits. At Shoebox Books, we're here to show you that bookkeeping doesn't have to be a stressful and overwhelming task. That's why today we provide you with some easy steps to finetune your bookkeeping processes, especially within the chaotic world of construction. After all, your focus should be on building your business – and of course, building… So, let's get started.
Taking a look at finances
Construction companies can work within a range of different business structures so we acknowledge that everyone will be in a different situation. However, there are some common financial operations among most construction businesses; you will have employees or contractors – sometimes both – and you will be contracted to provide services to the public or other businesses. This requires a need to accurately and diligently keep track of your own outgoing expenses for each job, including all of your materials used, equipment depreciation, and hours worked per job.
You will also be required to pay employees and contractors their worked hours, and employees have to be paid according to the appropriate award, and with correct tax withheld and super contributions. Then, there's your fringe benefit tax and GST payments too. Understandably, it can all get a little overwhelming. It's a lot of paperwork and tracking of fine details for people that prefer just getting out there and working with their hands. That's why we share some of our tips to help make your life a little easier.
Why is Construction Accounting Different?
Construction is project driven. Construction workers are contractors who operate their business around projects with billing, production, or labor. The projects are scattered and occur on different sites and locations. Different sites often have wage differences, equipment, and transportation costs.
The length of contracts can vary and lag payment can be an issue here.
Costs need to be accurately tracked to each project.
Orders and plans can change abruptly and these changes need to be tracked diligently. Changes in the construction scope, design, site conditions, or even the project schedule have the ability to make or break the budget.
Ask For Help
As the financial operations within a construction company can get very complicated very quickly, sometimes it's best to get a little assistance from someone who's done it all before. Outsourcing a bookkeeper to keep and maintain your financial records is a great way to ensure every process is being performed accurately and meets legal obligations. If you do outsource, however, ensure that the bookkeeper you choose understands the complexity of construction bookkeeping and has experience in the field – as in, bookkeeping-wise.
In the case of small businesses, you may not have the budget to outsource. In this case, you may conflate the bookkeeping duties with the administrator's role – this runs the risk of causing errors within your records as admin staff do not always have the required skill set for bookkeeping. Avoid losing track of your expenses by getting initially set up with an understanding in bookkeeping processes required for running a construction business by having a consultation with a bookkeeper, to learn the ropes. At Shoebox Books, we can provide small businesses with advice on maintaining their financial records, and if you need more help, you can retain a bookkeeper on an ongoing basis. It really depends on your needs.
The important thing is that if you're struggling or losing track of your finances because your business is getting too busy (which is a good thing – well done you), then it's important to get help with your bookkeeping. Invest in getting it done right so that you have one less thing to worry about.
Keep In The Loop
As a business owner, you most likely already do know the ins and outs of your business; however, as businesses grow and expand and get busier, owners sometimes take on a more managerial role and sometimes lose focus of smaller operations as they concentrate on the bigger picture. Changes in orders, contracts, and plans come often and quickly in construction and can sometimes mess up budgets and financial records – that's why it's important to stay on top of all of the jobs running in the background.
A great step for ensuring you've got all your projects (if there's more than one) in sight is by going digital. Use a digital tracking system for projects and orders, and ensure that your project or site manager (if not yourself) keeps in regular communication with you and all workers. There are many great online platforms for project management; however, some can be more geared towards digital jobs. This website provides some resources to help you get started, if you're looking for a good project management system.
Ultimately, to keep in the loop with all of your ongoing and upcoming projects, regular communication and meticulous organisation is key. Having a clear picture of what's happening with each project allows you to keep track of material and labour costs day by day, allowing you to manage each budget better.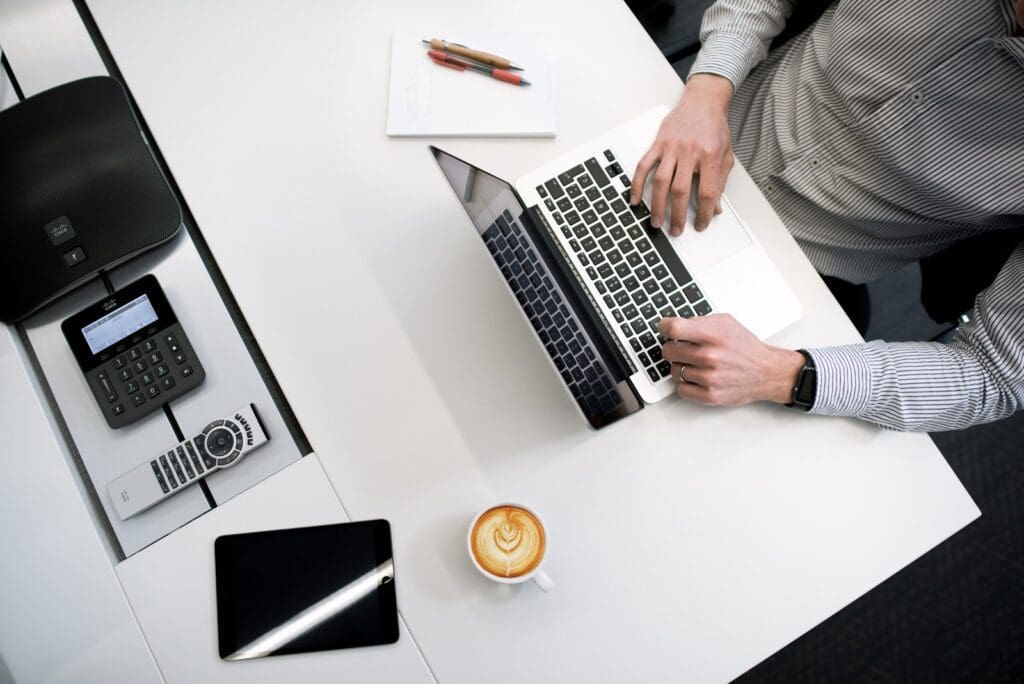 Keep a Digital Trail
On top of turning to the internet to help you manage projects and tasks needing to be done, consider going cloud-based for your financial reporting as well. This saves a lot of time and effort (and paper) down the track, especially during tax time. Going digital also helps with meeting financial obligations in the case of an audit; the ATO stipulates that businesses must keep all financial records for five years (some for longer depending on the nature of your business). Going digital can be as easy as utilising an online storage drive (like Google Drive, OneDrive, or Dropbox) and uploading your files. Microsoft and Google also allow you to use their office tools online so that all of your files automatically back up to the cloud. Everything is one place and you can access it from any device – making it easy for you to manage the financial side of your business. You can also take it one step further and get really into construction bookkeeping by investing in accounting software.
Using the Right Accounting Software
Accounting software – also referred to as bookkeeping software – provides a great virtual hub for all the little jobs necessary in business finance. You can manage payroll, invoices, and expenses, all in one place, and your data will be safe and secure online. We've previously talked about some of the most popular accounting platforms, which we shared in this article. For novice users of accounting software, Shoebox Books provides guidance on how to streamline your financial processes using the popular bookkeeping platforms Xero, MYOB, and Quickbooks. Get more info here.
Don't Dig Yourself Into a Hole
Shoebox Books Bookkeeping specialises in solutions for tradies and construction businesses. The pricing is fixed, and our services are mobile, ensuring your BAS is lodged correctly and on time. To learn more about our services, get in touch with us by sending an enquiry today.