Back
Introducing Shoebox Payroll – A Platform for Better Payroll Management
The Shoebox team have launched a payroll platform built for bookkeepers & accountants, making payroll easier & more manageable for everyone.
Payroll processing and management is an essential part of any business that deals with staff and employment, big or small.
Being a franchise group of over 50 bookkeepers and accountants we've come across plenty of clients over the last decade that have found themselves up late triple checking and finalising pay for their employees.
This is where 'Shoebox Payroll' comes in.
When you and your business are just starting out, it makes perfect sense to save costs where you can and do these kinds of tasks yourself. But when you start getting bigger, there's nothing better than being able to focus on the day-to-day matters of your business that bring you more satisfaction, customers, and actual revenue.
More likely than not, as a business owner or manager, you are juggling a lot more than just processing payroll weekly. Automating this payroll process means you can devote more time to other tasks; like marketing for your business, training new staff, day-to-day operations and building customer loyalty. 
Shoebox Payroll comes from a partnership and brand integration with cloud payroll software company KeyPay.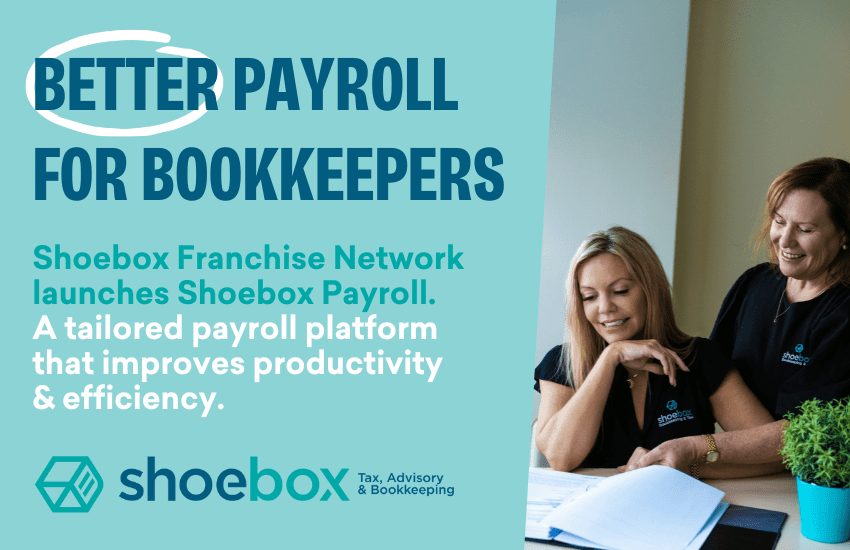 So, what is Shoebox Payroll exactly and how does it help our bookkeepers and accountants, and of course clients? Think of a standard software payroll system, but better!
AUTOMATED AWARD INTERPRETATION
Ensuring our clients' staff are being paid correctly and in compliance with Fair Work regulations. Shoebox Payroll is the only payroll software in Australia that can automate annual award reconciliations and employee award calculations for you – always updated in real time with scheduled legislation changes.
AUTOMATED PAY RUNS
Clients with static salaried employees – Automate their pay runs from end-to-end while maintaining overall control. Configure warnings for the system to notify you if anything requires attention. Focus your time and efforts on more complex clients, and business growth.
BUSINESS REPORTING
Add value to client's finances beyond payroll. Utilise reporting to improve your operations and efficiency. Our extensive library of reports obtain data on employees, pay runs, superannuation, PAYG and more.
The best part about using Shoebox's automated payroll software is that it can simplify and totally streamline payroll processes and give business owners peace of mind that their employees are being paid accurately and on-time.
Shoebox Payroll has been designed for bookkeepers and accountants, with the clients in mind, to ensure a seamless payroll management system for all involved.
If you're a business owner needing help with your payroll management or any other bookkeeping assistance, make sure to contact us and set up your free consultation.